ZONE of SILENCE
The Zone of SILENCE is a specially designated church which will become the innermost "heart" of the World Youth Day. With all the buzz, clatter and crowds in the streets, beyond the threshold of the church you will suddenly find a completely different space – a space of SILENCE. Even more appealing…
The main purpose of the church of silence is to offer young people a place to concentrate, pray and engage in a one-on-one conversation with God. A similar opportunity was offered in, inter alia, Rome, Paris and now also in Cracow.
We invite you to the Zone of SILENCE in Saint Mark's church in the centre of our city! The church, along with the Blessed Sacrament and the relics of saint Theresa of Lisieux, will be open from 9 to 2 a.m.
St. Mark's Church in Krakow, St. Mark's street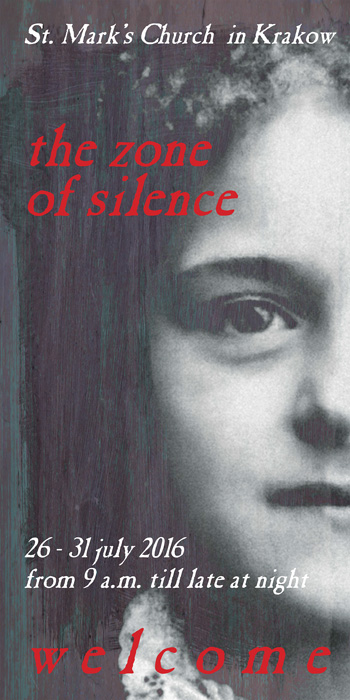 Therese of Lisieux was a girl who took a very short and very straight way to approach God. She believed that the people of her time lived in too great fear of Gods judgement however she sensed there was no need for fear.
She searched her own way to approach God. It was a new and simple way. She was extremely persistent and consistent.
She discovered her own, simple evangelic way which was easy to follow by everybody. The way to became saint led through the absolute trust in God. She knew she needed to stand in front of God empty handed. MADNESS TRUST was her only wealth. Christianity in her terms equaled to the entire trust and her gaze at God's Sun which was all she needed and which transformed everything.
She reached Christ following her "little way" and in that way she was so close to us.
Her life was full of routine and so ordinary, full of everyday chores, deprived of any spectacular events. It was so much like our life and yet she steeped in a loving commitment that knew no breakdown.
On 19th of October 1997, Pope John Paul II declared St. Therese a Doctor of the Church. By this act he wanted to say:
Follow Theresa's "little way". Love God as she loved Him. Trust Him entirely. God has chosen you as well no matter if you are simple or educated, reach or poor, whether you possess one or five talents. God had chosen you to understand that the Church has a Heart and this Heart is burning with your love.
Saint Therese of the Child Jesus and the Holy Face, known as Therese of Lisieux – French Discalced Carmelite Nun, the patron of France and catholic mission died on September 30th 1897 at the age of 24 years old. In 1925 she had been canonized by Pius XI. In 1997, Pope John Paul II declared St. Therese a Doctor of the Church.